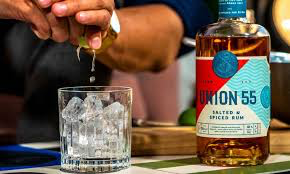 The Rum revival
WSET 4 Unit 1: Assignment 2: April 2019
Mariëtta Bertleff
The Rum Industry: Introduction and Statistics
Recent years have shown signs of 'Rum Revival' or also called 'Rumaissance' 13,24. Rum is moving away from its pirate, party look and taking over a more serious image. While global rum consumption declined by 0.8%, the ultra-premium segment increased by 15.8% 14, 17. In many countries, rum has been less known or popular like vodka, whiskey or gin, but nowadays it has the third place on the global sales list of spirits, after vodka and whiskey (figure 1) 27.
Figure 1: Sales volume of the United States spirits industry from 2010 to 2017, by category (in million 9 litre cases)
Source: Statista 2019
First of all: what is rum and what makes it different from for example gin?
Rum is an alcoholic beverage distilled through fermentation from the byproducts of sugarcane such as molasses or directly from sugarcane juice 4,8. Although the product similar to rum probably goes back to ancient India and China, the first reference about rum was by a British author Richard Ligon, who stayed in Barbados in the mid 17thcentury. He called it 'Kill-Devil', named after all the people lying drunk in the street after drinking the spirit. At the same time and for the same reason rum got its name as an abbreviation of the word rumbullion(a great tumult) 4. Rum originally was thought to have medicinal influences. It was used to purify water and to prevent you from becoming ill. For more than 200 years the Royal Navy issued a daily ration of rum to every sailor. This rule was only abolished in 1970 4,9.
Where the current rum's popularity differs from the gin boom, is that the process of making a good rum is far more difficult than distilling gin. You need to import the required molasses from tropical climates and balancing the molasses and yeast is a delicate process 9. An interesting detail is that the definition of rum is not defined. You can make rum from molasses, sugar juice or other cane products, use different distillery options, add sugar or other by-products, which makes it probably the most diverse spirit in the market with lots of opportunities 4, 8, 9, 10.
Statistics and trends in the Rum market
Global Market
Numbers on the global rum market seems to be a bit confusing. Everyone is talking about the one billion number, which means in one article a one billion litres per year consumption rate, but in the other it means one billion pounds of annual sales in Britain 7, 9, 29. On the other hand, there are reports about the fact that global rum consumption has declined 17, 25. A decline in rum sales has mainly hit India (table 1). Being the market leaders in 2017 with an almost 30% of market share in the rum sales, sales in India have declined dramatically 1, 19, 22. Causes are stricter rules in India and a decline in sales of low-priced rums.
Table 1: Leading rum brands worldwide in 2017, based on sales volume in million nine-litre cases
TOP 10 BEST SELLING RUM BRANDS
2017
2018
Sales Volume
Growth%
1
Tanduay
Philippines
19.5
17.5
2
Bacardi
Cuba
16.8
-2.7
3
McDowell's No.1 Rum
India
12.5
-16.1
4
Captain Morgan
Jamaica
11.7
9.3
5
Havana Club
Cuba
4.4
4.8
6
Barceló
Dom. republic
2.2
6.3
7
Contessa
India
1.8
-10.1
8
Ron Medellin
Colombia
1.6
15.7
9
Old Port Rum
India
1.3
-22.3
10
Appleton Estate
Jamaica
1.2
0
Source: https://www.thespiritsbusiness.com/2018/06/brand-champions-2018-rum/
In a recent report online, though, India is still number one with regards to global revenue and expected growth (table 2). After India, most revenue in the rum business is generated in the United States (2019 US$ 1,572m) with an average per capita consumption of 0.5L in 2019. Although the sales expressed in currency have grown, the total of liters sold (volume) has fallen: in the US from 184.8 million liters to 150.3 million liters in 2019 28. The average volume per capita has declined as well, but the price per unit has increased from US$14 per unit up to US$ 19.7 in 2019. In conclusion one can say that people are drinking less rum in volume but are spending more money on a glass or bottle.
Table 2: 2019 sales data on rum revenue and consumption
| | | | |
| --- | --- | --- | --- |
| REVENUE IN RUM SEGMENT | 2019 (US$) | EXPECTED GROWTH (2019-2023) | AVERAGE PER CAPITA CONSUMPTION 2019 |
| INDIA | 3,688m | 6.8% | 0.2L |
| UNITED STATES | 1,572m | 1.3% | 0.5L |
| BRAZIL | 1,138m | 1.4% | 0.4L |
| CANADA | 797m | 1.8% | 0.9L |
| GERMANY | 790m | 1.1% | 0.7L |
| SPAIN | 724m | 3.1% | 1.3L |
| UNITED KINGDOM | 673m | 5.8% | 0.3L |
| RUSSIA | 269m | 4.0% | 0.2L |
| THE NETHERLANDS | 82m | -1% | 0.3L |
Source: Statista.com
UK Market
The UK market has been the trend setter in Europe for years 15. First of all, the G&T revival, followed by the sherry premiumisation in combination with tapas restaurants and now rum is coming into the spotlights. Reasons are the cocktail penetration into bars, restaurants and also sport cafés. People are living more outside and the CTG (casual get togethers) are more involved in their lifestyle. This used to be the places for the G&T moment, but now the dried spices rum and the fresher botanical infused white rums are gaining popularity 6. Expected growth in the UK rum market is 5-5.8% in volume and a 9.1% in value 23, 27.
Global trend
The rum boom is mainly caused by the younger generation 21. This new consumer group, like for instance the Millennials, are getting more influential in the spirit business. Eighty percent of the 25-34-year old's like to drink rum regularly 3. They are seeking high-quality brands and innovations and want to assert their status. Younger people are drinking less than their parents, but if they drink, they want something special. Why they are drinking less is due to several reasons. Firstly, because they are more aware of living a healthier lifestyle. Secondly there is more legalization in different countries about age limits, safe driving and also rules about who can sell alcohol. But although people are drinking less, they are more curious about the product they drink, wanting to know its background, where it comes from, what is in it and are looking for higher quality products 21,25.
National trend in the Netherlands
The Spirit Union Distillery is the first rum distillery in the Netherlands. Their first product Union 55 was brought onto the market two years ago and has become a great success. They have learned from the beer industry where the popularity of craft and local beer was and still is immense. Based on this knowledge they started a local rum distillery by crowd funding. They want to change the conversation about rum from the ongoing discussion around spiced "pirate" rum, legalization, categorization and age statement and focus more on adding a new flavor driven category of rum. A rum which has the potential of replacing the gin and tonic cult with a new spirit mixer: the botanical infused rum combined with soda, tonic or cola. Target markets are the UK and Scandinavia 6.
Innovation, premiumization and range extension
Innovation in the Rum world
Innovation in the rum business is not just about product innovation, but possibly more importantly about the branding and telling the story behind rum. People may not be aware that rum is not only produced in the Caribbean, they are not familiar with the different flavors and types of rum and may not know that rum is more than something that you put in a cocktail 17.
What is there now: types of rum?
There is no official classification for rum. Roughly you can say rum can be white, golden or dark, flavored or spiced, distilled in a pot or column stills and produced from cane juice or molasses 4, 8, 23. Dark rum is still the most preferred category (62% of total global rum consumption in 2017). White rum comes in second place with 24% and flavored rum in third place with 13% 17. Another and maybe better classification is not to talk about the color, but about the country of origin and distillation method.
Expanding opportunities in the rum market:
"The rum market potential is hugh…" a quote of Ruben Maduro, founder and owner of the Spirited Union Distillery.
Where is the growing potential?
Rebranding
Probably the biggest and most effective, innovative step in the rum business is rebranding. Rum is more than something you put in your coke. Apart from this it has a good price/quality ratio, and it also has an aging potential. All countries have their own style depending on method of distillation and products used. It can be drunk pure or mixed with just soda/ tonic or used in the well- known cocktails. People need to learn about these new faces of rum 3,6,26.
Premiumisation is the action or process of attempting to make a brand or product appeal to consumers by emphasizing its superior quality and exclusivity. It is about building a desire and adding meaning or value to a product 20. In the Rum world premiumisation started in 1982 by Master Distiller and Blender Joy Spence, from Appleton Estate in Jamaica 4, 13. She made rum more than just a high spirit used to make cocktails and showed its potential. In other spirit business, sales of premium categories have reached a 40%. In rum the premium brands only account for 16%, but it is expected and also seen in the numbers that interest in these premium products is growing fast 13, 25. Premiumisation is all that current youngsters want. They are willing to pay for quality, rare, crafted and must have products.
Premiumisation is not a direct guarantee for success. After premiumisation Bacardi experienced a drop in sales with 2.7% in 2017. Bacardi was struggling with a cheap, rum just to put in your coke image. Because of this it recently shifted its focus to more premium positioning, releasing two new products with higher price points in April this year 16. They had to be innovative, since their focus on bulk and cheap rum was not working out anymore.Having to deal with an image of cheap and simple rum, but knowing that people are willing to pay high prices for luxury products, Bacardi launched the Facundo collection, dark rums aged up to 23 years and finished in French Cognac casks. Prices $250 a 750-ml.
The ultimate example of premiumisation of rum is from Haus Alpenz; Black Tot Last Consignment British Royal Navy Rum, prices $1400. It is a blend from Jamaica, Barbados, Trinidad and Guyana rum. Only 80 cases were made available in the U.S. The rum was pot distilled in 1970 and has been held in glass demi-johns since. It tastes like a very old Armagnac. Black Tot Day is the day (July 31th, 1970) on which the royal Navy ended the daily tradition of drinking rum. A bottle with a story to tell. Something the new generation likes and is willing to pay for 4.
There is a growing appetite for more flavors 6, 21, 25. Bacardi already launched Bacardi Raspberry and Bacardi Ginger in 2018 and is now bringing Bacardi Spiced onto the market 5. Apart from spiced rums, a tremendous growth is seen in the golden rum category 21. More focus on ageing, in time and on different types of cask is adding new rums to the portfolio especially in the premium section 4. Another experiment in the spirit industry is a freeform, mixture of techniques, often botanical infused rums. These types are based on exploring flavor and are difficult or maybe impossible to categorize according to the 'old' system 6, 18.
From the wine and beer scene we know that nowadays people are looking for convenience. They prefer ready mixed drinks, online sales and want the product to be brought to the costumer. Data shows that online sales in the rum business in 2019 was only two percent. So almost all rum was bought in stores and bars/ restaurants. Suggesting there is potential market here 25,28.
What are new ideas in marketing?
1. Making an appellation or grading system
Rum has not yet had a classification system for example like whiskey or wine. The reasons are that rum is made in so many different countries with their own regulatory system and also own production methods and climate differences that is it very difficult to make a uniform global rating system. One problem regarding this topic, is the fact that for example 20 years of aging in the UK is totally different compared to a warmer country like Barbados 4,13. In the EU the age on the label refers to the youngest rum in the blend and in other countries it refers to the oldest in the blend 4. A solution to this problem might be solid phase microextraction (SPME) and gas chromatography 7. But much easier is by starting to put on the label what is in the bottle 26.
Rum in food and tobacco industry
Restaurants have now started to add rums on their list, but still 43% of bars and restaurant have no dark rum in stock 14. This is a missed opportunity, because as with sherry rum goes very well with fine dining. An aged, caramelized rum will also go beautiful with chocolate, fruit and creamy desserts 10,13. A&E Scheer, a Dutch Rum blending company, is using rum as an additive flavor in the tobacco industry.
Rum festivals, pop ups stores
In 2007 Ian Burell, started the RumFest: an event to make people understand rum is not just a spirit but it's a lifestyle 9. At the last rum Fest in London more than 400 varieties of rum were presented.
New marketing techniques and branding
For the millennial consumer old marketing techniques do not work. They do not watch 30s advertisements. So, Bacardi has changed its old marketing trick and has started working now with famous people such as actor Michael B. Jordan and hip-hop artist Swizz Beatz to promote its new premium rums. After seeing this movie, you want to be part of the rum family 12.
The Bar Scene
Tiki culture associated with beach boys, Hawaiian shirts, coconut and lots of rum started in the 1930s. It was part of a laid back, no nonsense culture with Don the Beachcomber as a founder and inventor of the Mai-Tai and Zombie. 11. The Tiki scene was a way to get back to life after the prohibition and the great depression. In the 70s Tiki bars became less popular. But since 2016 in the cocktail renaissance tiki bars are again upcoming especially in the U.S cocktail scene, and are also finding their way now into Barcelona, Paris and Munich 2, 10, 25. In the London bar scene, you see a combination of new fashion tiki bars and something completely different, like bars being under the influence of the Hipsters. Hipsterism is not only associated with coffee, but also with bars and cocktails. They stand for being aware of what goes into your product and enjoying it. An example is the East London Liquor Company. They see two type of rum drinkers. The one's that like a sweet, spiced cocktail and the one that like to sip their rum 21. People want to explore even more different brands and flavors and are more into craft spirits. Bars can offer customers now more than 200 different brands of rum, with more focus on the white rums which you can blend with soda, tonic or ginger beer and the aged premium rum you can drink pure. 6, 10. Also, we should not forget the London Hotel bar scene, in which the cocktail culture is still playing a very important role 15.
Personal Commentary
It is within expectation that the rum market will flourish over the next ten years. There are plenty of opportunities but of course also the strengths, weaknesses and threats need to be taken into account.
The strength about rum is that is has so many different flavors and possibilities. It can be drunk pure or be mixed. It can have a grassy flavor up to brown caramel taste and it has not been discovered yet by many people. Gin and tonic have had its peak. It has been so hip and happening, but people now will search for something new. Not forgetting that rum still has a good price/ quality level.
The biggest weakness in my opinion is the unawareness of people about the quality of rum and the possibilities. A classification system could be helpful. It will teach consumers about the different styles, but also challenges producers to improve and maintain their quality and keep innovating. But on the other hand, will a classification system be of any value? Maybe the Millennials are not interested in learning about the theory behind the spirit. They are more interested in the feeling of the moment and the experience they can share with their friends.
Opportunities though are multiple. The e-commerce world for rum is already there, waiting, with China as one of their biggest opportunities. In China spirits consumption is still small, especially for the international spirits. But people are very focused on what people are doing elsewhere in the world. So, cocktails and associated spirits are of growing interest. Also, food and rum festivals and pop ups stores are trending and have proven their effectiveness for wine and beer, but rum is still to come. And so far, an aged brown rum is still more affordable than an aged whiskey. Millennials like to support their own city, go for craft work and also want to support environmental issues. Union 55 is a good example of how this works in Amsterdam. Local brands want to be proud of and work with their national brand. They also like to buy premium products, are willing to pay more for quality and "wanna have" products.
Threats are mainly political and legal driven. Will there be more official regulations to disallow alcohol consumption and will the popularity to live a healthy lifestyle grow? Besides this, generation Z might be completely different from the Millennials and make different choices with regards to lifestyle and happiness.
This WSET assignment on rum was really fun doing and the interview with Ruben from Spirited Union Distillery was inspiring. It is a very interesting and new approach to the rum world. This summer my drink will definitely be an herbal infused white rum with tonic. A funny detail is that E&A Scheer started a new area in rum 300 years ago and now again history repeats itself in Amsterdam.
Word count: 2949
References
1 Admin (2018). The Spirits Business. Rum Brand Champion 2018: Captain Morgan. [Online]. Available at: https://www.thespiritsbusiness.com/2018/06/brand-champions-2018-rum /
2Akkam, A. (2017). The Rise of Rum and America's Love Affair with Tiki. Food Newsfeed.[Online] Available at: https://www.foodnewsfeed.com/fsr/spirits/rise-rum-and-americas-love-affair-tiki
3 Alexander, E. (2018). How rum became the drink of 2018? Bazaar. [Online] Available at: https://www.harpersbazaar.com/uk/culture/going-out/a22744602/how-rum-became-the-drink-of-2018
4 Bauer, B. (2018). The new rum: a modern guide to the spirit of the Americas. The Countryman Press, New York.
5 Bellwood, O. (2019). Bacardi Spiced meets demand for flavoured rum. The Spirit Business. [Online] Available at: https://www.thespiritsbusiness.com/2019/02/bacardi-meets-demand-for-flavoured-rum-with-spiced/
6 Bertleff, M. (February 2019). Interview with Ruben Maduro Founder and Owner of Spirited Union Distillery and Union 55
7 Botcherby, L. (2018). Rum classification using HS-SPME-GC–MS. The Column;14:9
8 Broom, D. (2013). Distilling knowledge: a professional guide to spirits and liqueurs.2nded. London: Wine & Spirit Education Trust
9 Express.co.uk (2018) That's the spirit!: Rum sales to £1billion for the first time…we found out why. [Online] Available at https://www.express.co.uk/life-style/life/969010/rum-alcohol-sales-1billion-sailors-favourite-navy-grog
10 Flaherty, D. (2018). Diverse rum spurs creativity and profit. Nation's Restaurant News, 00280518, 7/23/2018, Vol. 52, Issue 10
11 Flaherty, J. (2014). The bizarre rise and fall of the Tiki bar. Wired.[Online] Available at: https://www.wired.com/2014/07/the-bizarre-rise-and-fall-of-the-tiki-bar-in-american-culture/#start-of-content
12 Flannery, R. (2017). Bacardi CEO Mike Dolan Talks About Wasting Money, China and Swizz Beatz. Forbes.comForbes.com. 4/9/2017, p1-1. 1p.
13 Godwin, R. (2017). The Rumaissance. DrinkUp.London. [Online] Available at: https://drinkup.london/magazine/12796/the-rumaissance/
14 Hayes, A. (2017). High-end rum up double digits in US bars. The Spirits Business. [Online] Available at https://www.thespiritsbusiness.com/2017/09/us-on-trade-reaches-for-ultra-premium-rum/
15 Heil, M. (2019). London's Hotel Bar Scene Has Never Been Cooler. Vinepair. [Online] Available at: https://vinepair.com/articles/best-hotel-bars-london-travel-guide/
16 Hopkins, A. (2018). Bacardi eyes premium positioning with new rums. The Spirits Business.[Online] Available at: https://www.thespiritsbusiness.com/2018/04/bacardi-eyes-premium-positioning-with-new-rums
17 IWSR. (2018) Global Rum Insights 2018 www.just-drinks.com/market-research. [Online] pdf named _store_samples_2018_just-drinks_IWSR_rum_insights_SAMPLE.pdf
18 Malczewski, K. (2019). Freeform, botanical & hybrid: The spirits defying traditional categories for flavour's sake. [Online] Available at: http://imbibe.com/news-articles/spirits-cocktails/freeform-spirits-producers-breaking-rules-category-defying-flavour
19 Malviya, S. (2018). Liqour ban: 2017 sales in low spirits, valuation soar. [Online] Available at https://economictimes.indiatimes.com/industry/cons-products/liquor/liquor-ban-2017-sales-in-low-spirits-valuations-soar/articleshow/62667737.cms?from=mdr
20 Maxwell, S. (2014). What is Premiumization? Branding magazine. [Online] Available at: https://www.brandingmag.com/2014/04/09/what-is-premiumization
21 O'Mahony, A. (2018). Rum: can pirates' plonk become the next craft spirit? The Grocer. [Online] Available at: https://www.thegrocer.co.uk/reports/digital-features/rum-can-pirates-plonk-become-the-next-craft-spirit/568053.article?utm_source=email&utm_medium=referral&utm_campaign=Social#.XGBRK_57bl4.email
22 Research and Markets. (2018). Opportunity Outlook for the Brandy & Rum Market in India 2018-2023: Value, Volume, Avg Selling Price, Region and Distribution Channels [Online] available at: https://www.prnewswire.com/news-releases/opportunity-outlook-for-the-brandy–rum-market-in-india-2018-2023-value-volume-avg-selling-price-region-and-distribution-channels-300677718.html
23 Robinson, N. (2018). The trends behind rum's success. Morning Advertiser. [Online] Available at: https://www.morningadvertiser.co.uk/Article/2018/07/30/The-latest-trends-in-rum
24 Schuster, A. (2017). Spirits of Independence: American Rum. Distiller Blog. [Online] Available at: https://blog.distiller.com/american-rum/
25 Shingles, G. (2016) "Premiumisation, category blur and consumer evolution lead change in the global drinks market." Global Trends Report 2016. IWSR: IWSR Global Trends Report 2016.pdf
26 Shoup, ME. (2017). Could rum be the dark horse of spirits? Rum author and importer sees it chip away at whiskey's supremacy. Beveragedaily.com. [Online] Available at: https://www.beveragedaily.com/Article/2017/05/11/Rum-might-chip-away-Whiskey-s-supremacy-due-to-price-increase
27 Statista.com (2019). Rum industry-Statistics & facts. [online] Available at: https://www.statista.com/topics/3783/rum-industry/
28 Statista. com (2019). Rum industry-Statistics & facts. [Online] Available at: https://www.statista.com/outlook/10020300/109/rum/united-states#market-globalRevenue
29 WSTA.co.uk (2017). Ho Ho Ho, and a bottle of rum! Wsta.co.uk [Online] Available at: https://www.wsta.co.uk/press/891-ho-ho-ho-and-a-bottle-of-rum